Farm Tub Planters with an integrated self-watering, growing system come in our standard 2 foot height and a variety of  lengths to meet your gardening needs. The 2 foot height is ideal for tomatoes and other deep rooted vegetables and plants.
Planters are made to order and processed in the order they are received.
Download Farm Tub Planter Price Sheet (PDF)
Farm Tub DIY Kits with the self-watering system are available if you already have a stock tank or water holding planter.
See the DIY Self-Watering Kits and Pricing page for sizes and pricing – https://www.farmtub.com/products/diy-growing-system-kit/ .
2023 Farm Tub Planter Sizes, Shapes and Prices:
Oval End Planters:
3′ length – 2'x 2′ x 3′ (2′ height) – $267 galvanized steel, $710 cedar finish
4′ length – 2'x 2′ x 4′ (2′ height) – $308 galvanized steel, $899 cedar finish
5′ length – 2'x 2′ x 5′ (2′ height) – $375 galvanized steel, $1095 cedar finish
6′ length – 2'x 2′ x 6′ (2′ height) – $485 galvanized steel, $1338 cedar finish
8′ length – 3′ x 2′ x 8′ (2′ height) – $811 galvanized steel, $1957 Cedar finish (special order only)
Round Planters:
3′ x 2′ Round – $507 galvanized steel, $997 cedar finish
Farm Tub Muck Bucket Planters:
17.5 gallon plastic buckets in a variety of colors with our self-watering system included
Great for a weekend away
Perfect for one tomato plant with herbs, or a bucket of flowers
18 inches high, 22 inch diameter
Colors vary by season
Priced at $75
Farm Tub Muck Tub Example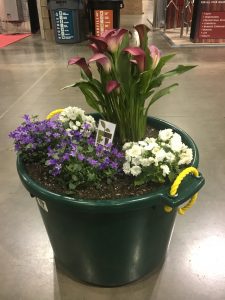 Wood Veneers and Color Options Previously Offered – Changes each season
Examples of Wood Veneers
Wood Color Stain Examples
Galvanized Finish
Farm Tub Planter Pricing
The price for a Farm Tub Planter with integrated self-watering system is based on size, veneer, and finish chosen. Pricing starts with Muck Tub Planters at $75, Galvanized steel Farm Tub Planters and self-watering system range from $267 – $811.
While wood is offered on a limited basis this season, Cedar wood clad planters may range from $710 – $1957.  For large projects, please call 303-449-5633 for bids and pricing.
For PRICE LIST, please click  green button below.
Download Farm Tub Planter Price Sheet (PDF)
Planters are available in galvanized steel from 3′ – 6′ lengths and 8′ length while available.
Note:  We can ship 2x2x3, 2x2x4 and 3×2 Rounds only.  Shipping prices quoted at time of order.  All other sizes available for pick up in Boulder, CO.
Cedar wood veneer is available for 3′ – 6′ lengths. The Cedar Farm Tub Planters come with a clear coat for protection, or as raw wood if you wish to stain them yourselves. Color staining options may also be available.
Replacements Parts
We offer individual replacement parts for the Farm Tub self-watering system.  We sell the following items as individual parts:  Farm Tub Float water-indicator, Fill Tube and Cap, Wicks, Spigots, Food Grade Plastic Spacers (to hold up the reservoir platform), and reservoir platforms.  Please call us at 303-449-5633 for individual parts pricing.
How to Order A Farm Tub Planter
We take orders by phone for all Farm Tub Planters at 303-449-5633.  We take payment upon ordering and give you the estimated turn-around time. Farm Tubs are custom made to order and are processed as we receive them. We offer Boulder pick up or  regional delivery services for a fee.  In addition, Farm Tub Planters up to a 2x2x4 foot size can be shipped via FedEx Freight, start at  approximately $375 per pallet box shipped in the U.S.